Google search console tutorial is written by digital marketing trainers for students in Delhi Digital Guru, but anyone who reads this, can get the benefit.
Google search console was also previously referred to as Google Webmaster Tools. It allows us to track how our website is performing in the Google search results and help our site rank higher in Google. It is a powerful, but complex, tool.
How to Set Up Google Search Console?
So if you haven't signed up for Google search console yet it's completely free. You will need to do is set up your website with Google Search Console.
You can easily verify your website with search console using Google Analytics, Google tag manager or doing it directly where you have your domain name registered. You can visit the Search Console website, sign in with your Google Account – preferably the one you are already using for Google Analytics.
Click the Add Property button in the upper left corner, and you'll see this dialogue box:
You need to do is add your website property and verify it now. Select the URL prefix, as it gives you more options for verification.
Next, you will have to verify this site as yours or not. Please follow the below mentioned steps and
Add your website property and verify it now.
Click 'Add a property' under the search drop-down.
Enter your website URL in the box and click 'Continue'
Click the arrow next to 'HTML tag' to expand the option
Click on the 'Webmaster Tools' tab
Go to the top-left and select your domain
Click on Ownership Verification
Now, if you already have Google Analytics, it will automatically verify your site for you and you will see this: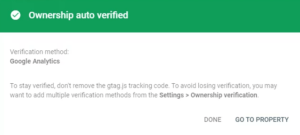 If this doesn't work for you, use one of these other options for verification.
The benefits of using the search console   
Improve your performance on Google search so reports to measure your website's search traffic and performance.
Fix issues and make your website shine in Google search results so that's a high-level overview you can actually see how your website is performing in the Google search results optimize your content with search analytics.
You can see what's actual search queries or bringing people to your website analyse your website's impressions clicks position and click through rate on Google search submit your sitemaps and individual URLs for crawling.
With Delhi Digital Guru learn SEO Advance Technique.