In our digital marketing school, we advise students that website speed optimization is a crucial component of any successful project they undertake to demonstrate their qualifications to prospective employers. Servers can occasionally appear too difficult to manage.
What if, despite learning all SEO strategies and techniques, your website is slow and fails to satisfy your website visitors?
Although you may believe you know everything as a student, the first thing you should do is check. Websites are like showcases; no matter how lovely they are on the inside, if they don't close, no one can enter. The same is true for websites.
Page Experience algorithm – Website speed matters after this update
As planned, Google is rolling out its Page Experience algorithm in June 2021. When Google does this, it's nothing new. This shift has been the subject of constant discussion for more than a year. Google occasionally makes changes, so this is nothing new. Our anticipation of a year is now ended. Now, the Google Webmaster Tool's Core Web Vitals feature allows us to observe this. This declares that the moment has arrived.
Hence, it's a good thing that you, dear students of digital marketing, have chosen to read this post from our Internet marketing university. As most of you have previously enrolled in our digital marketing course for website speedup, our main goal here is to provide an overview once more so that you can review the highlights.
6 Simple Ways to Increase WordPress Website Speed
We were talking about servers when we started this article because the server is the primary part of the website. The quality of the server drives your website speed anyway. Here we are discussing some tools, we want you to cram their names because once you complete your digital marketing certificate it will help you all the times
This tutorial is written by digital marketing trainers for students in Delhi Digital Guru, but anyone who reads this, can get the benefit.
In a nowadays digital world, your website speed and efficiency must be good. If your website loads slower than it should, then it is high time to work on your website. Therefore, website loading speed must be fast these days. Because the lower speed of your website can affect your website traffic and bottom line. Hereby, we will discuss in this tutorial how to speed up WordPress sites. The following information will help you understand why fast loading times are essential today.
How to test the loading time of your website? You need to think like an expert! Not like a student
If you're looking for a website speed tool. There are 2 best tools to check the website speed performance.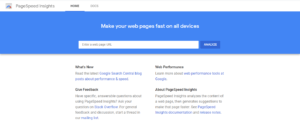 Test your website on – the Google age seed test tool & GTmetrix both.
The solution is in Lighthouse analysis, read it carefully
So, it's important to know the tools used for it. All SEO learners should practice this because with fewer efforts you can achieve more. Around 50% of websites are not optimized in the world. By doing these small practices students like you can make a difference.
Now, it's time for analysis
The lighthouse analysis elements are-
First contentful paint [FCP]– When the first website element appears, this is FCP
Time to interactive – What time it will take when the user can click something
Largest contentful paint [LCP] – 75% of your page loads, consumed time for it
Cumulative Layout Shift – CLS is the unexpected shifting of web page elements while the page is still downloading.
Speed index- All content downloads to your device, complete load
Total Blocking time- Time that blocks website
Understanding 2 website speed testing tools in a better way
If we see this report on google's page speed tool or GTmetrix
We can understand 2 things we should primarily (however no point is ignorable, all are primary)
FCP & Time to interaction -FCP is actually very important. when we study the normal visitor bouncing pattern 50% FCP is responsible for the high bounce rate. As the first paint appears the visitor tries to scroll the page or try to interact if we control these 2 things we can reduce the bounce rate up to 50%. We mean normally a person can wait if FCP is ok. So choose something that does not create an obstacle to load your initial appearance.
Our second point is Mobile speed – How does it matter to you? Haven't you heard of mobile-first indexing?
Mobile-First Indexing & Speeding up the webpage
With time Google made many changes, and mobile-first indexing is already introduced, which means mobile first & desktop second (if we elaborate). I don't go in the definitions here but this can give the idea of google's approach of device priority.
Website Speed on mobile in India
Mobile data speed is unstable because the device is moving. Maybe you are in a dark cave where due to low signals your data speed gets slow. While driving sometimes networks become unstable, these are the possible situations sometimes or in case there is no reason your mobile internet is not working… We all know the difference between wifi & mobile data speed, why I am telling you all this?
It's because I want to you focus on mobile first. In the above example, I am telling you if you are doing SEO then this should be your first task to optimize your website on mobiles first.
Through the above-mentioned tools, you can check the performance report for your website. You can also see some of their Recommendations and some areas where you need to improve.
Therefore, everyone must use these tools to kind of see where they need to improve their website speed. It'll give you some different tips so you can keep speeding up your website.
Website Speed Tips for digital marketing learners:-
Choose a better web hosting provider
Today, we are going to give some tips to optimize the website. So, you can speed up and improve the performance of the website.
The first thing is to choose a good web host and to choose a good hosting package and there's a lot of different web hosts online.
There are many types of web hosting available. You can choose the web hosting according to your website and budget.
Shared web hosting service.
Cloud hosting.
Virtual Dedicated Server.
Managed hosting service.
Grid hosting
Colocation web hosting service.
Clustered hosting.
Dedicated hosting service
For WordPress hosting, I would recommend using VPS or dedicated hosting because that gives you your own server whereas these other options like shared server
If you have a new website, you can use share to start with but I would highly recommend switching to VPS and dedicated as you start building out your websites uploading images uploading content. VPS provides power control flexibility to run a server the way you want dedicated improved security complete customization so VPS and dedicated are actually more secure than the other options because you're not sharing a server with other websites.
Use website speed optimize plugins and uninstall unwanted plugins
If you have a WordPress website so you can install the below plugins to boost the website speed. There are two plugins that can help to increase the website speed.
w3 TOTAL CACHE & W3 SUPER CACHE
WP rocket
Test Plugin-related issues – Test your plugins, deactivate & activate method. Update all the plugins
Next is,
Remove extra unwanted & heavy xms from your website & check if the problem is solved or not.
Reduce image sizes
Resize your images – A lot of plugins come with this efficiency, few names are
up to 100 images – Short Pixel, smush, robbin are a few names
smush image compression optimization has a free and pro version so with the free option you can quickly just press a button and helps to reduce the file size of your images it's not going to take down the quality either but all you have to do is really just press a button and it's going take the images that you've already uploaded and optimize them.
Images are one of the big things that takes a while when your pages are loading so if you have optimized images it really speeds up your website speed.
Use a lightweight WordPress theme
Check Theme-related issues – Today's website comes with heavy functions/features & animation so it takes a lot of loading time. Before you troubleshoot the theme. For more information about theme-related issues. Click Here.
Deactivate & activate it first
Then update THEME
The features that you don't use, depend on THEME, how great they are, and whether this feature is available or not. If it's permitted in your theme then do it.
Clean-up WordPress database
Frequently, we must delete unwanted data from our database. It will keep the database size to a minimum. It is also very important to delete spam comments, old drafts, and fake users of your content, and maybe even unwanted plugins as well as themes.
Use a CDN
It is necessary to use a CDN (Content Delivery Network) service to speed up your website. There are many CDN available which can help you to keep the site loading speed at a minimum for visitors from various countries. A CDN keeps a copy of our website in various data centers located in different- different places/countries. There are 2 most popular CDN available.
There are many ways a student can prove he is not a beginner in digital marketing or at least in SEO. He knows everything important from the primary stage of speed optimization to the most complicated SEO state.
We make you learn like nowhere else, we do not know if you are part of a digital marketing guru, but you are welcome if you want to learn. Keep coming back to our blog page we always love to teach.
Resolving issues with page report tools
Whatever GTmetrix says to you or if you use the Google Page Speed Testing tool in both situations you get some point.
Minify JS and CSS files
Prefetch some external URLs
Try to serve Fonts from your servers
Manage critical loading elements
Remove unused code inside
Keep fewer requesting pages on the server
When we talk about WordPress then things become simple, you can use plugins to manage them but in other technologies where you have to work on handmade code, it becomes manual & time taking too. There are tons of tutorials & material on the internet. I suggest a video here